Copyright Notice: copyright held by
Janice A. Brown | nh.searchroots.com
© 2004-2015. All Rights Reserved.

If you are interested in
genealogy or history
in a particular New Hampshire COUNTY,
click on the interactive
map (below),
or visit the COUNTY LIST
page. Genealogical material
of interest state-wide is also
located here.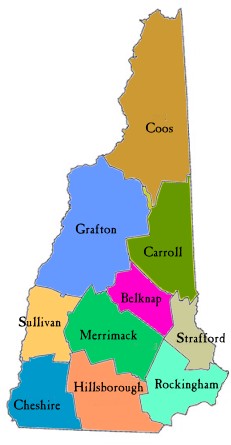 The graphics on this site represent aspects of the textile mill industry which was a leading factor in New Hampshire's early growth.

You may contact me by email at if you have questions. I cannot perform research for you, (unless otherwise specified) however I can suggest additional avenues you can take.
---
See the SITE MAP if you want a detailed outline of where information is located on the entire web site. Most of the information and links to information are free, however fee-based resources that are of great value to researchers are included here.
If you know the COUNTY of origin that you wish to research, start with the COUNTY LIST section. If you don't know the county, there is a link at the top of the COUNTY LIST page for you to learn the county where your particular town is located. If you don't know the town, I recommend you use the search engine, to find a name or other known data.

If you are researching your genealogy (family tree) and wish to locate vital statistics or other documents, and general research tools in New Hampshire, select the RESEARCH page.
No genealogical research is complete without learning about the HISTORY of your area of research
For maps (old and current), along with statistics, demographics, and other background material, see the REFERENCE page.

Genealogical Mailing Lists, Queries, Surname Lists, and Message Boards can be found in the COMMUNICATE section.

Photographs and Likenesses of New Hampshire people, places and events can be found in the PHOTOGRAPH section.


NOTE: Recently an expensive pay-for-service genealogy web site offered a section on New Hampshire research. Don't be fooled. Much of their information (plus much they don't have) is already available HERE for free.